A Great Job By Huawei: The Freebuds 4i
ioeinternet
10/06/2022
1910
Huawei has been focusing on mid-range Bluetooth headphones for some time now. The company has done a great job of fixing everything that was wrong with the Freebuds 3i, while keeping the price aggressive - better case design, real active noise cancellation. The FreeBuds 4i finally seem to strike a balance between price, features and sound quality.

Compared to their predecessors, the tapered FreeBuds 3i, the FreeBuds 4i adopt a more streamlined in-ear design, similar to the AirPods Pro. The curves of the earphones are softened by long stems and silicone tips that ensure a perfect fit. The earbuds are just big enough to ensure a good seal and lock the Freebuds 4i in place, so even if you shake your head a bit, they won't fall out.
What Can The Huawei Freebuds 4i Provide?
l Noise cancellation
The comfortable fit is also great for isolating extra noise. Huawei's active noise reduction technology has always worked very well and it will be no different with the huawei earbuds 4i. The noise reduction is surprisingly good for the price, they block out enough ambient noise to maintain immersion while listening to music, watching movies and playing games. The feature is very effective at blocking out everyday sounds, such as the noise of motorbikes and trucks on the street.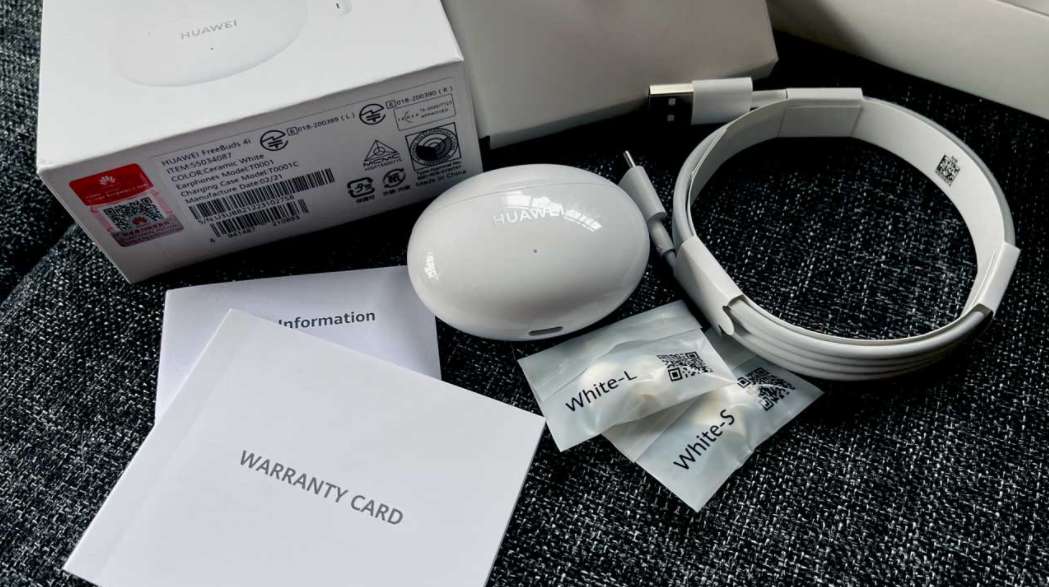 l Comfort
The ear tips are made of silicone, so even after hours of constant use, the FreeBuds 4i were still comfortable to wear. Although the silicone tips ensure a perfect seal to the ear, they do not produce uncomfortable heat in the ear, which can be a problem with larger headphones.
l Lightweight
The huawei freebuds 4i are light as a feather and stay securely in the ear, even during vigorous running. They look great, provide a secure and comfortable fit, and offer solid audio quality that makes them enjoyable to use for short or long periods of time. As for comfort, in many situations you can wear them without feeling pressure or feeling like they're going to fall out all the time. There are several silicone tip options in the box and you can test the different sizes to see which one suits you best.
l Long battery life
Battery life is another strong point. The FreeBuds 4i can easily last a whole day on a single charge, with the charging case providing a quick and easy way to top up when you need it. Each Huawei FreeBuds 4i earbud has a 55mAh battery and the case has a capacity of 215mAh. The charging case has been redesigned with a sleek oval shape and flat back that fits comfortably in your hand and is compact enough to fit in your pocket. Huawei claims that the FreeBuds 4i can deliver 10 hours of battery life on a single charge with ANC off, and around 7.5 hours with ANC on.
l Audio quality
In terms of audio quality, the Huawei Freebuds 4i feature polymer diaphragms and 10mm dynamic coil drivers, which work in perfect coordination and provide clear sound and produce neutral tones with well-balanced highs and lows. This makes for a truly enjoyable and solid listening experience. The FreeBuds 4i sound their best when listening to pop, folk and vocal-centric music. When listening at high volumes, the FreeBuds 4i can maintain a distortion-free sound without getting too muddy, so if you want to turn up the volume on your favourite track, you'll still get a decent amount of clarity.
Conclusion
The huawei earbuds 4i are a pair of mid-range wireless headphones that offer excellent ANC features and a battery that lasts all day. Don't hesitate to take a look ont it.
Latest: Best Gaming Smartphones in 2022
Related Articles