Huawei Band 6 Review: Watch-like Smart Band
ioeinternet
07/07/2022
2272
Should I choose a smart band or a smart watch? Many of those who want to buy a smartwatch for the first time may have struggled with this question. Since the price of the band is usually lower, the size is also smaller, and it is more comfortable to wear than the watch, but the watch has many more functions than the band. The Huawei Band 6 may be the answer to this question. On the basis of the predecessor band, Huawei Band 6 has absorbed a lot of the advantages of the Huawei smart watches. So, what are the features of Huawei Band 6? Is Huawei Band 6 worth buying? Keep reading, this review will tell you all.
Display and Design
Compared to its predecessor, Huawei Band 6 has made a big innovation in design. It combines the advantages of a band and a watch, with the large screen display of a watch and the compact size of a band.
Huawei Band 6 is equipped with a 1.47-inch large AMOLED screen, compared to the traditional band of 0.95 inches, the display area is increased by 148%, and in order to create a better visual perception, Huawei Band 6 also makes great efforts to compress the flat bezel, finally achieving a 64% screen-to-body ratio. With a larger screen, Huawei Band 6 can display more information than its predecessor and carry more functional applications.
However, despite the large screen design, Huawei Band 6 keeps the weight at 18 grams (without the strap), without losing the lightness of the band. The screen is designed with 2.5D glass, and the rounded transition on all four sides offers users a better control experience. Due to the addition of all-round touch operation interaction, Huawei Band 6 does not have a Touch key on the front, but a physical button on the side with reference to smart watches. The strap is interchangeable, and the default strap is soft silicone for a comfortable wear. There are four stylish colors to choose from: Graphite Black, Forest Green, Amber Sunrise and Sakura Pink.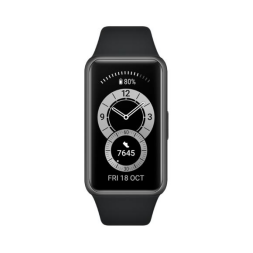 Functions
Huawei bands 6 have many functions, here are some of his features, you can refer to the following.
Blood Oxygen Monitoring
Compared with other Huawei bands, one of the major innovations of Huawei Band 6 is the 24/7 continuous blood oxygen monitoring, which can achieve uninterrupted monitoring of the user's health status and automatically issue warnings when the blood oxygen level is abnormal.
S

leep

M

onitoring
Huawei Band 6 supports HUAWEI TruSleep2.0 sleep monitoring, which is actually an infrared light-based sleep detection technology that enables sleep staging monitoring, real-time heart rate monitoring, sleep breathing monitoring, and also sleep quality assessment. Users can view data such as sleep time, deep sleep continuity, number of wakefulness and breathing quality through the band, with the help of which they can accurately identify sleep problems such as difficulty in falling asleep, shallow sleep, easy waking at night, early waking, excessive dreaming, irregular work and rest.
Heart Rate M

onitoring
In addition, Huawei Band 6 also supports the static heart rate too high/too low reminder function, generally the band will issue a reminder when the continuous heart rate is too high or too low for more than 10 minutes at rest. In addition to heart health research, providing rationalized improvement suggestions based on monitoring data to ensure we enjoy a healthy and scientific lifestyle.
Sports Modes
Huawei Band 6 supports a total of 96 sports modes. In addition to the regular running, walking, cycling, swimming, elliptical machine, rowing machine and other sports, Huawei Band 6 even added new ways to play such as jump rope mode. In the process of exercise, Huawei Band 6 intelligent sensors can be a comprehensive detection of exercise heart rate, heart rate interval, calories, exercise time and other data, timely improvement recommendations to prevent sports injuries caused by unscientific or unreasonable movements. And it also supports automatic recognition of movement patterns. For example, when the band detects that we are running, the band automatically enters the running mode, without manual selection. The band also adds a lot of features that were only available on Huawei smartwatches before.
Verdict
Overall, if you're looking for a versatile, affordable fitness tracker, the Huawei Band 6 is worth considering. The huawei watch band 6 has a lot to offer in terms of features and functionality, and it's sleek and stylish design is an added bonus. Whether you're just starting out on your fitness journey or you're a seasoned athlete, the Huawei Band 6 can help you reach your goals.
Latest: Soyez plus prudent avec Huawei smartwatch 3
Next: Huawei p50 vs p50 pro
Related Articles